Cycle package "The costal trail"
A wonderful mix of coastal landscape and history
Day 1. Arrival at Karlskrona. During the afternoon / evening, take the road ferry to Aspö where you spend the night in the former lot tower. Before that, you should visit the castle that was built at the 17th century. Distance: 10-20 km.

Before transferring to Aspö, you should take a look at the Naval City of Karlskrona
Read more about the world heritage>>
Day 2. Ferry to Tjurkö, and bike across the islands Sturkö and Senoren, you sleep in a cottage on the island Senoren. Distance: 10-20 km.
Day 3. The tour continues towards Kristianopel, which in the 17th century was Denmark's southeastern outpost. Nowadays a picturesque little village with beautiful gardens, nice guest harbor and lovely atmosphere during the summer. Distance 30-40 km.
Day 4. From Kristianopel, the route now goes in the forest area, mostly on small village roads past small farms and glades towards Lyckeby where you sleep this night. Distance 40 km.
Day 5. From Lyckeby you cycle back to Karlskrona, and on the way you may stop at the nice little park at Vämö before returning home. Distance about 7 km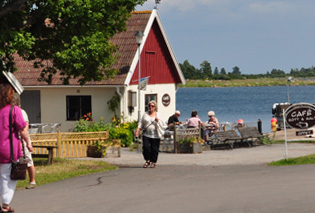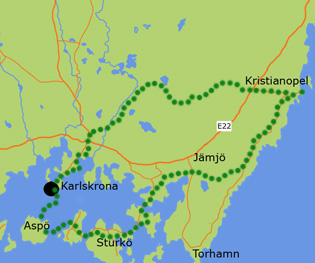 The package includes:
4 overnight stays (part in cabin or twin room) including breakfast, bed linen and towel
Bike for 5 days
Map with information
Price: 2.950 SEK/person
Extra fee for singleroom: 1000 SEK
Children -12 yrs discount: 500 SEK
booking form >>